Discover How to Use a Motorcycle Flywheel Puller on Your Own
Buying a motorcycle is an expensive investment but once you become an owner of one, you need to keep your four-wheeled buddy in great working condition by regularly maintaining it. The engine is the main part of a motorcycle so to be able to enjoy a smooth ride you need to keep this part in its best condition. Being familiar with all its parts is very important in order to detect any problems your motorcycle's engine may experience so you can find the right solution for it.
A motorcycle flywheel puller is something your toolkit must contain. It is the first tool you will need in case you need to take your engine for repairs or replacement. Once you need to use the motorcycle flywheel puller, make sure the bike is stable and properly supported. Before taking the engine off, read the manufacturer's service manual. Also, make sure you prevent the flywheel from rotating by using the right tool that will help you keep it steady. Inside the recess, there is a left handed female thread that will accept the puller. Take the puller body and identify the right thread to use. Using a spanner on the puller body will prevent the puller as well as the flywheel from rotating. Continue to screw the cross piece into the puller body so you can release the flywheel and thus remove the engine.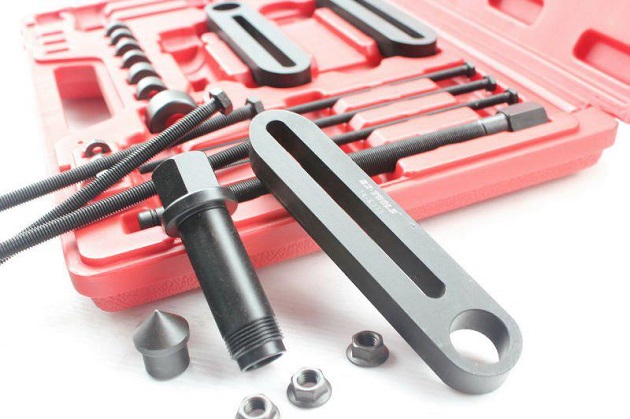 When using a motorcycle flywheel puller, there are some important instructions you should follow. First, inform yourself about the limitations, applications, and potential hazards when using a puller. Make sure to always keep this tool in good working condition by making regular repairs and replacements of damaged parts. Keep the working area always clean and uncluttered and pay close attention to the lighting. There should be always an adequate amount of lighting regardless of the time of the day you are working.
Wearing appropriate protective clothing is of utmost importance. Use protective glasses so you can keep your eyes safe from injury. Also, ensure the floor is not slippery and wear non-slip shoes. Never wear a watch, ties, rings or other jewellery. In case you have a long hair make sure you tie it back. Before using the flywheel puller, make sure it is in a good working condition. Damaged or missing parts can easily cause damage or injury. Also, keep the puller's threads lightly lubricated and clean. Once you are done with the project and your puller is no longer in use, keep it in a dry, safe and childproof location.