Steel Workbench: the best way to promote peak productivity in your operation
If you run a warehouse, you are always looking for new ways to keep the operations productive and ensure your employees work efficiently and in a timely manner. You should always be aware of the ways you can improve the equipment your employees use in a day-to-day routine at work, and one way would be investing in a steel workbench. It may not be something you usually think about, but replacing the equipment you use with updated, newer, and stronger models can make a really big difference in the overall productivity.
Steel workbenches will always be a sturdy, durable, long lasting choice and are only a small part of the equipment used today in warehouses and so many other industries like the motor industry, engineering, electronics, education and so many more. A standard steel workbench is made from steel angles and is fully welded and you can usually choose what kind of top you want it to come with. The first choice is solid wood with added hard wood veneer and the second is with added galvanized steel with a lip at the rear which can usually be removed and a vice plate in the right hand corner as usual. You can find different benches with bottom shelves that are fitted or without and they can also come in a variety of lengths and widths which are usually available upon request or custom orders.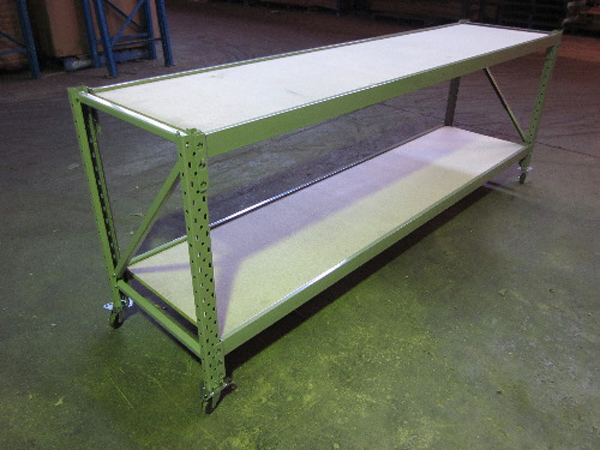 The biggest factor when it comes to promoting productivity in your workplace and operations really comes down to flexibility and organization. Most employers or employees are looking for workbenches with more storage options, that's why building your own workbench was popular for a long time. These days many manufacturers have upped their game and have started producing standard workbenches with bottom shelves. Of course there are many more options, there are detachable shelves for the top and bottom and you can even customize your order with many manufacturers and have them build your ideal steel workbench for you.
A customized one is a great choice to up the speed and production rate of what it is now. Stainless steel was also not an option that long ago because it is heavier and more expensive to produce, but durability and its ability to withstand heavy loads have made it one of the best options for workbenches in the workplace.
If you are looking to restock your workplace, or upgrade your old equipment, you can usually find everything you need at a local manufacturer for industrial furniture or online. You can find medium duty steel workbenches, heavy duty steel workbenches, super heavy duty steel workbenches, even mobile steel workbenches. If you cannot find a manufacturer locally you can just as easily search for manufacturers' websites online where you can shop, browse, and compare models side by side. Some suppliers may even offer to ship straight to your door.