Discover All the Ways You Can Use Storage Trunks in Your Space
Looking for ways to bring some old-world charm into your home decor? Adding a vintage storage trunk is a great way to achieve that. Plus, decorating with storage trunks comes with huge storage potential. Aside from looking beautiful, trunks are roomy enough to keep blankets and other items you might want to tuck away. Big and small, elegant and worn-out, all kinds of trunks in different sizes, shapes and designs, could be appealing to the eye as well as cater to a number of utilitarian aspects. Here are some great ideas for incorporating storage trunks into your space.
In the Living Room

Let's start with the most commonly used room in the house – the living room. Elegant and functional storage trunks offer a place to put your beverage down, with hidden storage to keep your living room nice and tidy. They are also a great way to give your living room an original, vintage feel while allowing you to store magazines and any other object you want to keep on-hand, but out of sight. You can even decorate the lid of your trunk to create a beautiful centrepiece for your room.
Consider pairing your trunk with a map as a throwback to how trunks were originally used. The use of trunks dates back to medieval times, but they really began to gain popularity as luggage in the Victorian Era, around the 1870s. This was when cross-country railroads and inter-continental travel by water made long-distance travelling more feasible.
For a great impact, choose a dark wooden trunk. When paired with a white or light themed room, it will add a lot of depth to your design scheme.
In the Bedroom

Who needs a boring nightstand when you can use a chic vintage trunk? Vintage trunks make for stunning bedside tables. In fact, they are the perfect piece to be shared between two twin beds in a guest room.
Vintage trunks can also be used as footboard benches. They offer you a place to perch while dressing, as well as additional bedroom storage for all those extra throw pillows or seasonal bedding. Using organisers and scented satchels will help keep things fresh and ready for their next use! In this case, the trunk should match the headboard and also follow the same colour palette as the rest of the decor.
In a Kid's Playroom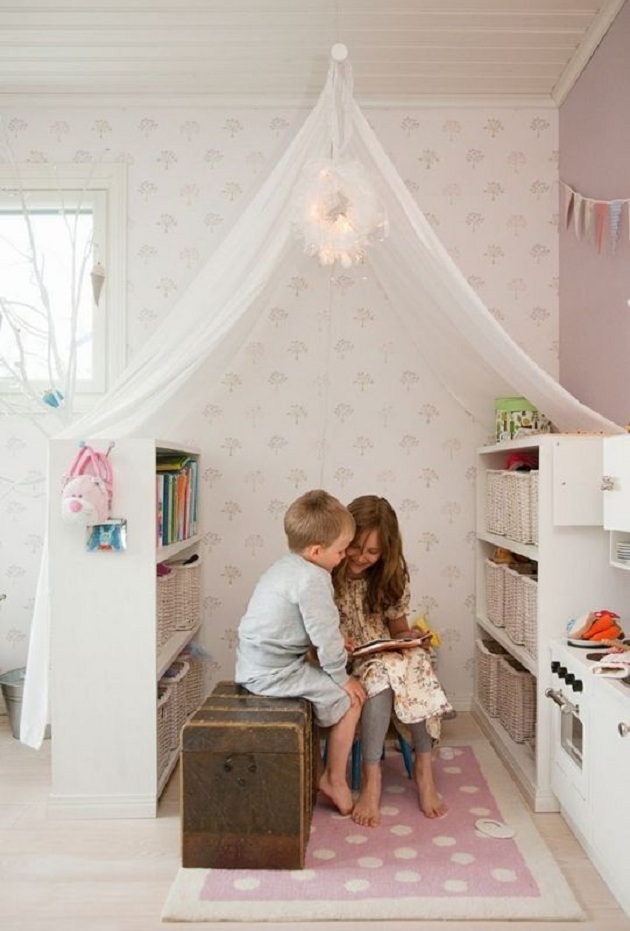 Trunks are a great place for kids to store their favourite toys and games. Trunks in a playroom also make cleaning the room easier and can even be a great way to limit your kids' toys by encouraging them to only keep what they can fit into their trunk. Games, balls, costumes and more will have a perfect home in a trunk. This is a great way to keep your kid's room or playroom neat and tidy without taking up valuable space in a tiny closet .
In an Office
Use trunks to store paperwork or other records that don't need to be accessed regularly. This will prevent them from being lost or damaged. Paper, pens, post-it notes, paperclips, and stapes can also be easily kept in a storage trunk and off your desk. If you're limited on closet space, it can be an attractive way to keep things organised!
In the Dining Room
Items that are special but aren't used often such as silver pieces, can be stored in small trunks for protection and to keep them organised. Use a flatware liner or other fabric storage to keep things in good condition and scratch-free. Cupcake liners, birthday candles, or party decor may not get used often, but they are still necessary! Keep them on-hand in a storage trunk and they will be ready to go when you need them.
In the Entrance Hall

Try incorporating a vintage-style trunk into your entrance hall and you'll see just how beautiful it looks. If you love seasonal decor, trunks can be a great place to keep seasonal decorative items and accessories tucked away until it is the appropriate time of year. The trunk can also be used to store shoes and other useful items such as umbrellas, scarves, hats and even pet items.
Trunks are also ideal for other small rooms with very little storage, or for brightening up those forgotten corners of your home. Practical, versatile and original, you can use trunks for storage however you like.
How to Decorate a Storage Trunk?
Trunks of different colours and styles can suit the contemporary look and feel of the interiors of a house as well as those with a retro look. Be it an antique trunk or a modern trunk, you can give it a spin to place it strategically on display instead of tucking it away simply as a means to store items.
For example, trunks of different sizes but similar colour schemes can help you arrange items in different places. The bedding can go inside one trunk, the toys inside another, and the clothes not in use at a given point of time inside another one. There could be a combination of three trunks, the sizes being large, medium and small.
An unpainted, unvarnished and unfinished look of a wooden trunk could do wonders to the aesthetics of a living room. Such a trunk looks simple and uncomplicated, yet is quite graceful and stylish in appearance. Beauty and utility combined at their best. A rustic trunk set can add a rustic touch to a room. Galvanised metal, rivets and contrasting colours make rustic trunks sturdy and durable.