Exploring the Best Blinds Solution for Sliding Doors
If you are someone who's wondering "Can you put blinds on sliding doors?" the answer is yes. There are plenty of alternatives for treating sliding glass doors with functional and stylish blinds. But, before I move on the details, there are some important things you should remember. First, be aware that special window treatments can be more expensive so it's important to find an experienced and trustworthy company. You don't want to spend your hard-earned money on blinds that won't stand the test of time.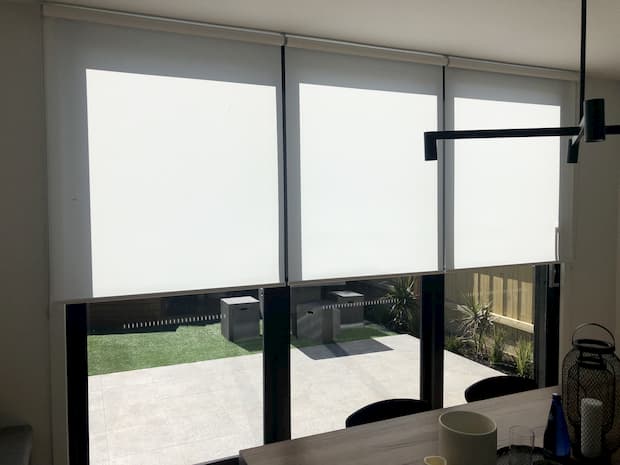 Also, almost all sliding door blinds need to be installed as an outside mount. This means you should install them on the wall above because most of the doors don't have enough depth for inside mount installation. Prior to the installation, make sure you ensure you take the right measurements and decide on whether you want vertical or horizontal blinds.
Another consideration is how your door handle may interfere with the window cover you choose. If you don't have a lot of experience with window treatments, you can ask for professional help. The company you plan to purchase from can help you find an option that will extend far enough so it won't hit the handle. Last but not least, think about how important it is for you to coordinate your new large sliding door blinds with their surroundings and make it all match.
What are the Best Blinds for Sliding Glass Doors
Sliding Panels
These are one of the top choices for sliding doors and extra wide windows. They are easy to operate and come in hundreds of fabric choices. These sliding door blinds are made with flat vertical panels of fabric fixed on tracks that allow them to slide and cover or uncover the door or the window. Panel track shades are also a good choice if you want to coordinate your new coverings with your existing decor or if you want to make a style statement. You can choose from blackout, solar or light filtering materials and get the light control that's right for you. Also, you can decide whether you want a cord loop, or you prefer them to be motorized and operated with remote control. You can also decide whether you'd like your shades to slide to the right, left or split from the centre.
Vertical Cellular Shades
If you want more temperature control, these wide blinds are the perfect choice for you. The honeycomb-shaped construction of their fabric creates air pockets that provide insulation thus keeping the room warmer in winter and cooler in summer. They are similar to the shades used for standard windows, but instead of going side to side, the pleats run up and down. They also provide a clear view out while the clean-lined style will give you a more modern look. Operating is easy and similar to opening a sliding door. You just need to push the button on the side rail and slide side to side. You can choose from a wide range of colours and materials and create the look you want. In case you have pets and you need something that's easy to clean then opt for shades made of vinyl or solar fabric. They just need to be wiped down with water and soap.
Curtains and Drapes
If you care more about classic style than functionality and special features, try curtains and drapes. Curtains can bring softness to the room and are perfect for camouflaging a sliding door. You can choose from the endless range of colours and patterns and coordinate them perfectly with your existing decor. If you want more heat or light control, you can add thermal or blackout lining. If you want to get the look of drapes and the easy operation of vertical blinds, choose a traverse curtain rod. This allows drapery rings to slide across the full length of the door or window. Avid rod-pocket style curtains for patio doors because they are not designed to be opened and closed too often.
Sliding Shutter Panels
If you want to infuse your home with a classic look, then faux wood shutters are a great choice. These plantation shutters can cover your sliding door with panels that slide back and forth. Keep in mind that with this type of window treatment half of your door will be covered at all times. Just like vertical blinds, shutters also have louvres that can be tilted for light control adjustments. You can choose between two louvres sizes – the larger the louvres, the clearer the view when they're open. Shutters made of PVC are great for rooms with high traffic as they can easily be wiped down with soapy water.
Sheer Vertical Shades
If you are looking for a nice replacement for your vertical blinds, sheer vertical shades are a great choice. They are something between vertical blinds and sheer curtains. They're made with vinyl vanes connected to a large piece of sheer fabric. Sheer shades can be tilted open thus letting light in through the sheer fabric or they can be closed to block the light and provide more privacy. They come in a range of materials, textures, unique prints and colours. When it comes to cleaning, some of these sliding window blinds can be removed and machine washed but make sure you check the cleaning instructions for your specific fabric.