Rediscover the 90's classic: The Rugby Shirt
The rugby shirt has been appearing in and out of the spotlight since the 50s and back then, it was worn by kids who where on a rugby team and the shirt was a staple of the jock look. Over the years, some celebrities have been known to keep the rugby shirt in style – names such as Mick Jagger who made the look big back in the 60s and 70s and today we have celebs such as Kanye West bringing it back to remind us how it's done. What once was worn as a sports uniform, has sky rocketed into popularity and many people are still incorporating the rugby shirt into their wardrobe.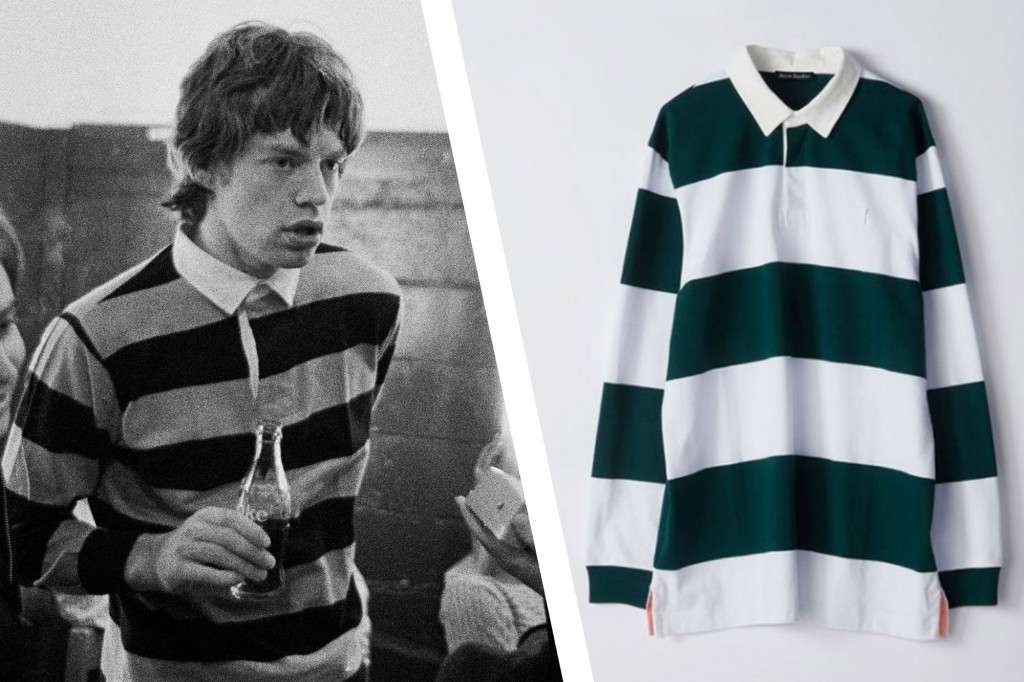 The History of The Rugby Shirt
It's not hard to guess that the rugby shirt was created for the purposes of the sport itself. These shirts are made to be very durable cause after all, they are made for playing a rough sport. They're usually made from thick cotton and unlike most polo shirts, the rugby shirt is made without buttons – a functional property in order to prevent the players from getting scratched by them. Featuring a collar, cuffs and long sleeves, the shirt has become a symbol for sport fashion fans. The iconic horizontal stripes were put there so that players can identify their teammates. Football already had the vertical stripe shirt and rugby secured the horizontal form. By changing the lines' width and colour, players could identify themselves on the field.
How to Style a Rugby Shirt
There are many ways to style a rugby shirt, however the dad-trend is huge right now, making this the perfect place to start. Jeans are now designed with a looser fit, and shoes are chunkier, so a rugby shirt is perfect to through into this mix. What's more, dads love to rediscover their childhood garms, making rugby shirts perfect for nailing this trend. For this style, all you need is a pair of light wash blue jeans in slim or loose fit. Just make sure to tuck the shirt into your jeans to finish off the look. It's a very casual look and can be recreated with ease.
Celebrities in Rugby Shirts
As I mentioned before, celebrities have been wearing rugby shirts for a long time now. Mick Jagger was the first icon to bring rugby shirts into the spotlight, and after him, greats like Kanye West and David Beckham have brought them into the new millennium. The way Kanye West wears his rugby shirt in all its glory is by combining it with bold colours (with the 2000s style shutter shades for instance). David Beckham, on the other hand, goes for a more casual look for his rugby shirt styling, with a pair of jeans and trainers with some accessories and a pair of sunglasses – the ultimate casual summer style.